35°39' S, 137°37' E
Population: 1450 (census 1996)
Kingscote is a smart looking small township, with a population of around 1450. It is situated overlooking the waters of the Bay of Shoals to the Northeast and on the Southside the beaches of Nepean Bay.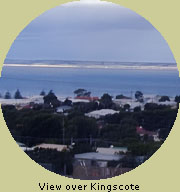 It was the first settlement in South Australia in 1836. There was some idea about it becoming the new free colony's Capital. A shortage of reliable fresh water ended this thought and the migrants that survived the rigours of the trip from England and the hardships faced on Kangaroo Island, moved to what is now known as Adelaide.
At Rennie's Bluff near Reeves Point stands a Mulberry tree which was planted by the original immigrants. It still bears fruit. Around the location of the tree is a cemetery and lots of historical information. Up the road from this point is the Hope Cottage Museum. Hope Cottage is the remaining cottage out of a set of three identical cottages named 'Hope', 'Faith' and 'Charity' built in the 1850's by the Calnan brothers. Exhibits depict the pioneering history of Kingscote and Kangaroo Island.
First named 'Angas', after George Fife Angas, one of the colony's founders. An argument resulted in it being named 'Kingscote' after Henry Kingscote, another of the founders.
Locals believe that another name the town was known by was 'Queenscliffe'. But this is unsourced information at this time. There are 2 hotels in the town. One is the 'Queenscliffe' locally known as the 'Queenie' and the other one the 'Ozone'.
Kingscote was an important port until the 1990's, with ferry and freight services coming here. In the early days, the basalt and bricks for the road which was built between Port Adelaide and the new town of Adelaide were shipped from here.
Kingscote is the Island's main town and its centre of commerce and tourism. It boasts several retail shops where groceries, clothing, shoes and souvenirs can be obtained. 2 hardware stores, 2 petrol stations and 2 banks with ATM facilities, can also be found here. There are a variety of other services and amenities to cater for the local and visitor needs. There are 2 art galleries in the town as well - both offer artworks of various types produced by local artists.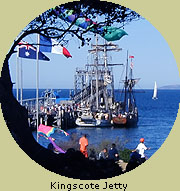 The well staffed Kangaroo Island General Hospital and Health Centre are located to the North of the jetty and overlook yachts and fishing vessels that dot the water.
Fishing is excellent from the jetty and the larger fishing vessels use this port facility to off load their catches.
On the Southeast of the town, a steep rise provides a good vantage point for views over the town, the bay and Western Cove.
To the Southwest is Brownlow. The Kingscote Yacht Club is midway between Kingscote and Brownlow. The rise gives way to beach and swampland near the mouth of the Cygnet River where birds nest and breed in profusion.